After working for IDEO and utilizing their innovation process, I believe innovation is merely a function of time.  I believe almost anything is possible – as long as you're willing to devote the time to make it happen.  I'd like to talk about deadlines as it pertains to the innovation process.
Innovation can and should be efficient, but due to the nature of the ambiguity of innovation, it's next to impossible to put a hard and fast deadline on it. When time is short, people tend to settle on a ho-hum idea thinking they can work out the kinks as they develop it.  Extending the deadline down the road is no better either. When the deadline is extended, the team rushes to fix the smaller details since they are too invested in what they have or still don't feel they have enough time to solve the bigger problems. Therefore, this leads to wasted work, a longer development time overall and a less-than-ideal product launch.
In the world of game design, if you are working on something other than a tried-and-true mechanic, I would suggest spending time to rapid prototype the game.  If you want to try out a risky mechanic, I suggest starting with a quick and dirty prototype.  Use programmer art and don't worry about the UI.  As long as you can try the mechanic and show it to a few colleagues  that should be all you need to quickly gauge it's fun-factor.
If you want to get a quick gage at the mass-market appeal, it might make sense to start with a 'look and feel' prototype by making a power point or video fakery of the experience. It must look and feel as close to the final product as possible or your feedback will be useless.  People are easily caught up in details that aren't a part of the final game, this will skew your results.  Put it in front of a FEW people one-on-one and pay close attention to how they react.  Ask lots of questions to see if they understand what's going on and try to gauge if you think they would want to play it if they could.  If it goes well, ask more people and/or send out surveys with a video.  It won't tell you everything but there will be a TON of learnings there and little time investment.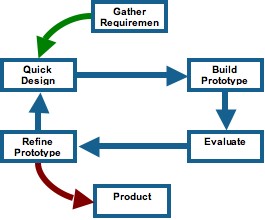 Now it's time for a fully-fleshed out playable prototype (or you may want to start here if it is easy enough).  Don't forget, the prototype must look and feel like the final product as close as possible.  Don't stop developing and modifying the idea until you receive tons of positive feedback.  Once you do – run full speed with development!  There will be many challenges as you build the game, but hopefully your playable prototype reduced these risks substantially and any changes are minor.  Always remember, work efficiently to solve the big problems first, then focus on the details.
For projects desiring the highest innovation factor, I suggest loosening the importance of deadlines, particularly in the design phase.  Set milestone dates for tasks to keep the team moving quickly.  But for the final shipping deadline, take a "we'll release it when it's right approach."  Better yet, have a design team devoted to designing and prototyping these more innovative ideas well ahead of production without a deadline at all.  That way you can build up a pipeline of ideas to grab from whenever you have a production team ready to go!
However, if you're working with a strict deadline that doesn't allow the time to work through any unknowns, I suggest working on something with a tried-and-true mechanic.  Don't try to innovate on a hard and fast deadline – it doesn't work.